Origami Minecraft redwood tree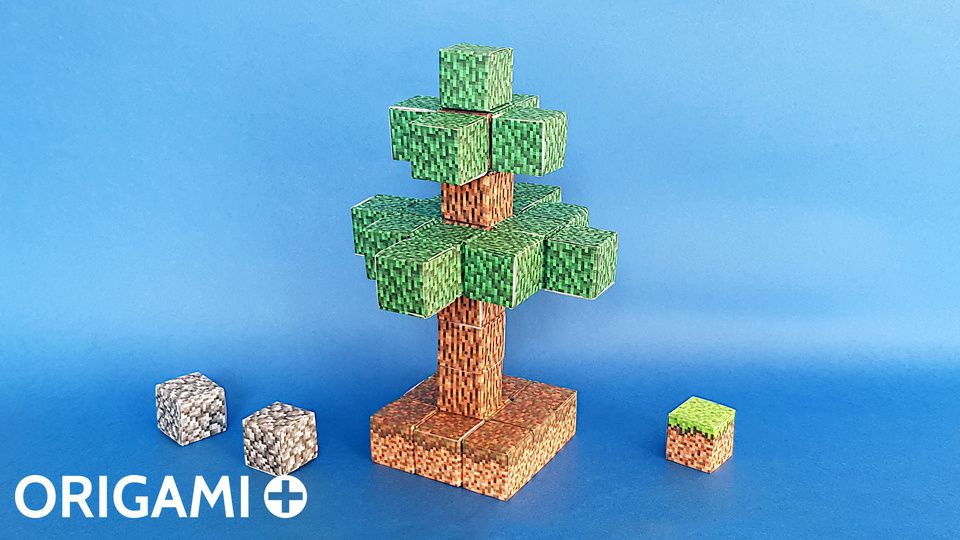 Original model created on 25/07/2022 - Published on 25/07/2022
Origami Minecraft redwood tree instructions and tutorial
This majestic Minecraft redwood tree is made with Minecraft origami blocks. The tree is made by folding paper, without tape or glue. It's different from traditional papercrafting (most paper craft projects use glue), and more related to modular origami.
Minecraft has spruce trees with a dark bark but does not have redwood trees. So this Minecraft redwood tree is a bit special!
I drew original textures for the Minecraft origami blocks: a wood block, a leaves / needles block, a dirt block and a podzol (the soil found in the taiga and cold forests) block.
The next step was to use the textures to make printable templates for each of the blocks, using my new origami cube model.
My son and I then folded all the blocks, and we joined them using simple clips made of paper.
I was a bit afraid that the cubes would not hold together as the leaves extend far from the trunk of the tree, but it did work quite well. The branches slump a bit at the end, just like the branches of a real tree.
Hopefully this Minecraft redwood tree will become the first tree of a whole forest in our future paper Minecraft world!
Material
To make the origami Minecraft tree, you need to print the printable templates for the blocks on copy paper (A4 or letter size):
Instructions
Print the printable templates, cut them, and fold the corresponding blocks. Follow the origami dice video tutorial, which uses a similar printable template than the Minecraft printable templates.
Make the top of the tree (4 leaves around a wood block, like a plus sign, with an extra leaves block on top).
Make the wider branches for the level below (1 wood block with 12 leaves block around).
Make the base (a 3x3 grid with 1 wood block with 8 podzol blocks around).
Then you can join the 2 layers of leaves with a wood block, and then finish by joining the leaves to the base using 2 stacked wood blocks.
It can be a bit tricky to join some cubes, as they don't have openings on all edges. But you can join them with clips on the sides as well.
Please share this Minecraft redwood tree with your friends!