Origami Minecraft cobblestone block texture and template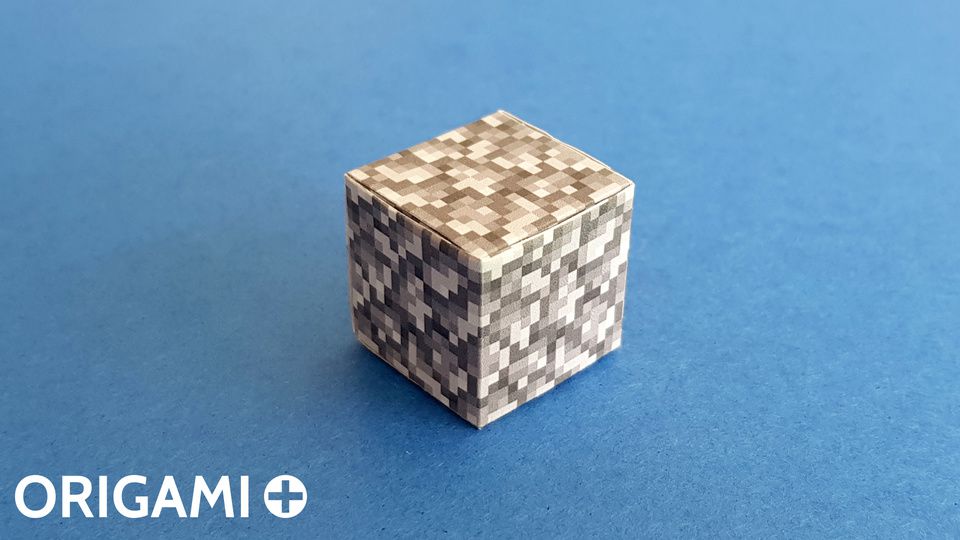 Original model created on 01/07/2022 - Published on 04/07/2022
Origami Minecraft cobblestone block instructions and tutorial
I created an origami Minecraft cobblestone block that you can use for Minecraft papercraft and papertoys. This cobblestone paper block looks similar to the cobblestone blocks in the classic Minecraft game, but it is an original 16x16 cobblestone pixel texture that I have drawn. The cobblestone block has round stones, it is perfect for lining a river, or used as paving in a city, or even for walls of stone houses.
It takes only a few minutes to make paper cobblestone blocks with this free printable Minecraft papercraft template. You only need a printer and copy paper, no glue needed!
The origami cobblestone block is folded using my new origami cube design, without glue or tape.
You just have to print the Minecraft block template on A4 or letter size paper, and fold following the video instructions.
I have also included a template for paper clips with the cobblestone texture that you can use to join the cobblestone blocks together without tape or glue.
I think those Minecraft origami blocks look pretty cool, I hope you will like them! If you make some Minecraft paper blocks, please send me some photos at stephane@origami.plus so that I can add them on the Origami Cubes website and show them in a future video on the Origami Plus YouTube channel! Thank you!
Origami cobblestone printable template
Instructions
Download and print the cobblestone template image.
Cut out the white borders to keep only the printed image.
Follow the instructions in the origami dice video tutorial (the dice template is very similar to the Minecraft templates) to pre-fold the template, cut the strips, and join the strips to make the origami cobblestone cube.
To join the origami Minecraft cobblestone blocks, print the paper clips template, and follow the instructions in the How to join origami cubes tutorial
Video tutorial:
Happy mining, crafting, printing, folding and building!
Origami Minecraft cobblestone block video instructions
To make a Minecraft cobblestone block in origami, please follow the instructions from this video on YouTube:
Please share this Minecraft cobblestone block with your friends!