Origami Cubes Pig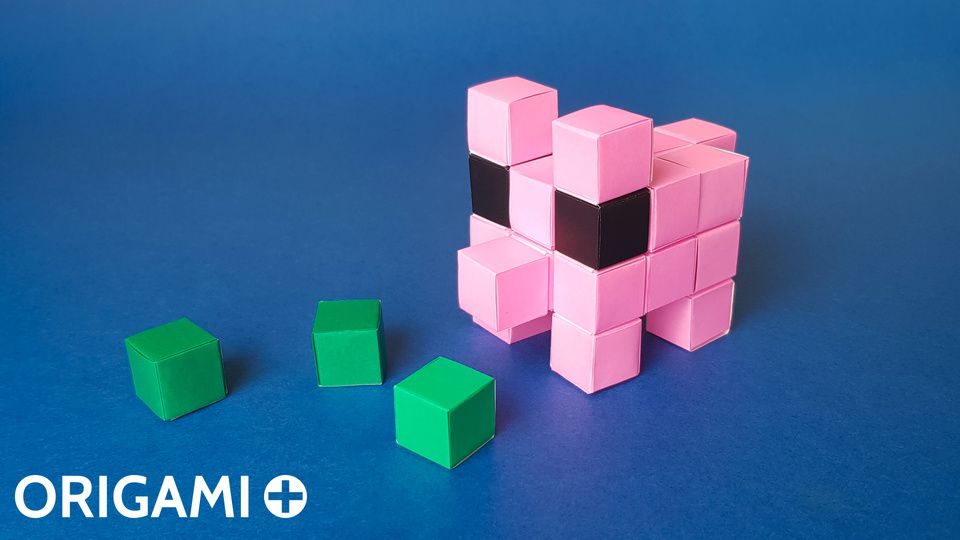 Original model created on 01/01/2022 - Published on 24/02/2022
Origami Pig instructions and tutorial
This cute origami pig made with origami cubes looks as it just escaped Minecraft! And it did escape Minecraft, as it was first designed inside Minecraft by my son Martin, and then we made a real life version of with origami cubes.
Once you make your origami pig, you can then play with it, as we did in this small stop-motion video!
Material
To make the origami cubes pig, you need 1 black square of paper, and 9 pink squares of origami paper.
1 black square to make 2 cubes for the eyes
6 pink squares to make 24 cubes for the body of the pig
3 pink squares to make clips to join the cubes
Instructions
First fold all 26 origami cubes and make a lot of clips.
Then start by making two 3x3 squares with 9 cubes each, with one of the square with the black cubes in the corner. Join the squares, then add the ears, node, tail, and finish with the legs.
Please share this Pig with your friends!